United Kingdom
Events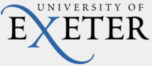 Celebrating the International
Year of Planet Earth
Want to understand more about this planet we call home?
Interested in what makes the Earth tick?
Wonder what challenges we face in the future?

The University of Exeter's Department of Geography has the answers for you.

In celebration of the United Nation's International Year of Planet Earth 2008, the University of Exeter's Department of Geography is hosting a series of public lectures on the past, present and future Earth. Everyone is welcome.



List of further lectures (pdf)

For further information, please contact:
Prof. Chris Turney (c.s.m.turney@exeter.ac.uk) or
Prof. Catherine Brace (C.Brace@exeter.ac.uk)


---
Origin and differentiation of the Earth: past to present.

Organised by Professor Andrew Jephcoat and Professor Alexander Halliday FRS.

The Solar system as we know it formed some 4.5 billion years ago. Our understanding of the timescales of planet formation, the material make-up of the Earth, and deep planetary processes has improved dramatically with advances in several broad, largely separate, areas of science - cosmochemistry, extreme conditions and seismology, and the simulation of planetary growth and mixing.

This meeting will bring together scientists from all disciplines in order to reconcile views on the internal structure and early chemical evolution of the Earth and the relationship with the formation of the moon.

The meeting is free to attend but pre registration is essential www.royalsoc.ac.uk/events


---
Please visit our website: www.devon.gov.uk/devonrocks for more information about the events and activities, including interactive games and competitions, happening in Devon. We have also developed an interactive map to search for great places to visit in Devon where you can experience our unique geology, firsthand.