Angola


IYPE delegation meets with Angolan Prime Minister and Minister of the Environment. From left to right: Mauricio Fernandes (IYPE Development Committee), Felix Toteu (Rep African NCs in IYPE Board), Eduardo de Mulder (Executive Director IYPE Secretariat), Prime Minister Kassoma of Angola, Oiti Berbert (Rep Latin American NCs in IYPE Board) and Minister of the Environment of Angola, Dr Fatima Jardim.


---
Launch International Year of Planet Earth National Committee Angola
On 12 November 2009 the National Committee for IYPE in Angola celebrated its launch at Congress Centre Teletona in Angola's capital Luanda. The meeting was attended by more than 80 representatives of the Angola government, the National Assembly, the private sector, civil society, higher education institutions and media. Among them were the Minister of Environment, Fátima Jardim, the Minister of Science and Technology, Cândia Celeste, the Deputy Minister of Education Pinda Simão, Deputy Ministers of Environment Sianga Abílio and Mota Liz. In addition, the ministries of Geology and Mines, Petroleum, Environment, Education, Youth and Sports, Social Communication, Agriculture and Women and Family were represented.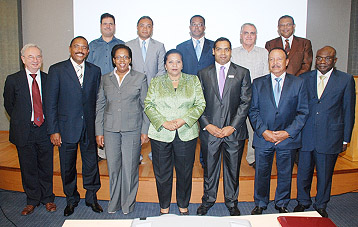 Many of IYPE's International Partners participated in the Launch event, including representatives of Banco Espirito Santo, CATOCA, ENIAMA, Petrogal, Somoil, and AGIP.

The Launch Event was followed by the UNESCO Workshop on Earth Science Education for Portuguese speaking countries in Africa. This Workshop was part of the Initiative taken by the UNESCO Director General Koichiro Matsuura at the Opening of the IYPE for Africa in Mau 2008, in Arusha, Tanzania. It is aimed to identify gaps in Earth science education in Africa and to develop a strategy to improve the situation in this continent. Twenty-eight representatives from various Portuguese speaking countries in Africa participated in the Workshop which was held in premises of the University Agostinho Neto in Luanda. The Workshop was chaired by Prof. António Lobo de Pina (AITP/Cape Verde) and co-chaired by Prof. Albano Ferreira (UAN/Angola). UNESCO was represented through Programme Manager Dr Sarah Gaines and ICSU by Dr Daniel Nyanganyura. IYPE was represented by Prof. Eduardo de Mulder, Mr Mauricio Fernandes and Mrs Telma Almeida. The Workshop was concluded on 13 November with the recommendation to create a Regional Centre of Excellence in Angola to promote research in and teaching of Geoscience.